Spain sees revenue from foreign tourism grow 7.8% 2014 to date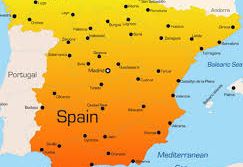 The amount of money spent by foreign tourism in Spain from January to June rose by 7.8% year-on-year to EU26.3 Bln according to a report published on Monday by the Spanish Ministry of Industry, Energy and Tourism.
Tourists from Britain spent the largest quantity of money in the first half of 2014 with a total of EU5.212 Bln and an increase of 10.2% year-on-year.
The Brits were followed by the Germans, who spent EU4.393 bln. representing growth of 9.4% compared to the first 6 months of 2013.
Meanwhile, the amount of money spent by tourists from Scandinavia reached EU 2.798 Bln, meaning a 7.1% increase when compared with the same period in 2013.
The report also indicated that tourists from France and from the US spent EU2.391 Bln and EU1.265 Bln respectively in the first 6 months of the year, experiencing an increase of 4.5% and 4% respectively year-on-year
Foreign tourists spent the largest amount of money in the Canary Islands in the first 6months of the year, a total of EU6.069 Bln, which meant a 13.9% increase in comparison with the first 6 months in 2013.
The Canary Islands were followed by the northeastern region of Catalonia and the southern region of Andalusia which received EU5.986 Bln and EU4.032 Bln respectively.
Recommended Reading :
* Spain sets another record for foreign tourism
* Spain sees 10-year high tourism spend in 2014