Gov't slammed for counting the financial cost of Spain's train crash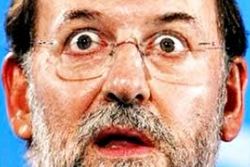 On a day of funerals for many of the victims of the Spanish Train crash, the Government has been criticised for calculating the financial impact the tragedy is likely to have on the country.
Spanish TV is reporting how sources from the Government have already begun to suggest the amount of compensation payments likely to be paid out to victims of last Wednesday's Train Crash in Galicia.
The unnamed source said how the Government was considering making allowances of €146,000 per fatality and up to €1,000,000 per injury, depending on the severity.
A total of 247 passengers were aboard the Train when it derailed on the outskirts of Santiago de Compostela on Wednesday evening. The death toll stands at 79, with a further 70 remaining in hospital - 22 in serious condition.
The same Government source also spoke of how a Brasilian contract tendered by RENFE and ATIF now looks in doubt. The terms of the submitted contract are believed to expressly state that any tendering company should not have been implicated in any serious accident for a period of less than 5 years.
Earlier News :
• Garzon Surrenders Train Drivers Licence
• Spain Train Crash Driver to face Judge Today
• Spain Crash driver Leaves Hospital, Remains in Custody
• Spain Crash Driver Questioned by Police
• Spain Train Crash Driver's Facebook Comments
• PM's Office Apologise for Train Crash Message
• CCTV Footage of Spain AVE Galicia Train Crash Emerges
• 77 Now Dead in Spain's Worst Train Crash