Suitcase Scam Affects Tourists Visiting Spain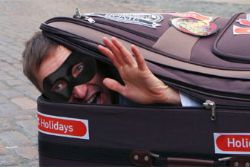 A relatively new kind of robbery tactic is emerging in Spain affecting tourists unable to fully protect themselves in what has been nicknamed a 'Trojan Horse' scam.
To make matters worse, travellers don't even realise they have been affected until well after arriving at their hotel or accommodation, long after anything can realistically be done.
The scam involves incredibly flexible people climbing into suitcases which are then placed in the luggage holds of waiting coaches and buses. Whilst enroute, the contortionists would then unzip themselves from the suitcase and raid luggage out of site from passengers and employees before resealing themselves and their loot back into their suitcase and being unloaded by accomplices waiting for them.
News of the scam first emerged back in 2011 when a group of 5 tourists claimed they had been robbed whilst in transit, but their claims were dismissed by the Barcelona coach operator. However, employees identified the rues when they saw someone speaking to a suitcase which immediately drew their attention and finally the penny dropped.
Local Police claim that the scam is rare. Their advice is to leave valuables in their hotels and be vigilant, yet it does nothing to help whilst in transit.
Barcelona was recently awarded the unenviable crown of being the most likely destination for Brits to fall victim to scams or petty crimes. So much so, that hotels in the area even issue warnings and advice to its guests about crime in the area and how to avoid becoming a victim.
Tumbit's advice is simple. If you must take valuables with you, try to minimise the amount you carry and ensure you have them in your possession at all times. If you must leave them somewhere, use a hotel safe and be vigilant against distraction robberies. People asking for directions or asking for your help are classic scams. Above all be particularly wary of people getting too close or even touching you.