Yorkshire gets new route to Spain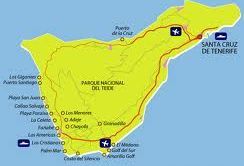 Thompson Airlines and First Choice have announced the establishment of an extra daily flight from Doncaster's Robin Hood Airport in Yorkshire to Tenerife Sur, commencing from Winter 2015.
The move comes as part of the company's strategy to promote the use of the UKs regional airports as an alternative to the busier hubs.
Steve Gill, managing director of Doncaster Sheffield Airport, said: "We are delighted that Thomson and First Choice have added to their current offering with us.
"We are sure that the day trip to Lapland will be very popular with our customers and the additional flight to Tenerife will help to meet the demand for that well liked route."
In addition to Tenerife-Sur, the Airline already serves Alicante-Elche; Malaga Costa-del-Sol; Las Palmas-Gran Canaria and Lanzarote airports.
Thompsons is just one of a number of Airlines to have announced an increase in either routes or frequencies of flights to mainland Spain and the Canaries over recent weeks, and follows yesterday's news that Spain had already surpassed last year's entire number of tourists in the first 11 months of 2014.
Recommended Reading :
* Spain beats annual tourism record with a month to spare
* Spain sees new airline to connect mainland to Canaries