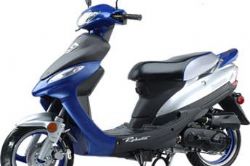 Despite the climate, larger motorcycles are few and far between on Spanish roads, but mopeds and scooters are very popular. Indeed they can even be problematic in some Towns and Cities with their incessant noise and erratic driving (and parking) habits.
Approved Crash helmets** are legally required to be worn at all times and, although it seems to be rarely enforced, failure to wear one can result in a fine of 100 Euros.
** The legality of Crash Helmets in Spain is covered in depth on the Article attached HERE
Recent changes to the law mean that Children under the age of 7 can no longer be passengers on the back of a moped, and when older than 7 they are required to have written permission to be a passenger with anyone other than a parent driving.
Motorcycles (but not mopeds) are also required to have their dipped headlights on at all times.
Changes to the law on 01.09.2010 mean that moped can now only be ridden by those over the age of 15 (prior to this date 14 years) providing that the engine capacity does not exceed 50cc and the maximum speed is no more than 45km per hour – however the age rises to 16 if the rider is NOT a Spanish resident. Riders under the age of 16 must first pass a simple road safety test and provide a letter of permission from their parents. All moped drivers must also have a provincial driving licence costing around 20 Euros, and a specially driving licence for mopeds.
A minimum of third party only insurance is also necessary and few Insurers will provide cover for younger teenagers due to the high number of claims from this age demographic. As a result it is widely known that many riders of mopeds do so without any insurance at all
However, Mopeds are no longer exempt from paying any road tax or registration fees and, if the moped has an engine below 50cc, it can not be used on a motorway.
Whilst there is a very high number of moped users in Spain, they are also involved in an alarmingly high number of accidents – largely due to their youth and/or inexperience of using the road.
From the age of 16 it is possible to ride a motorcycle with an engine size of up to 125cc, but this requires an "A1" licence – at 18 a motorcycle over 125cc can be ridden once a type "A" licence has been awarded. These Type "A1" and "A" licences are valid for 10 Years when up to 45 Years old, 5 Years when the licensee is aged between 45 and 70, and every 2 years beyond 70.
All motorcycles over 75cc must follow the same speed limits as Cars, and are permitted to use Motorways, although the tolls are lower. As with Cars, all motorcycles over 75cc must be registered with the Jefatura de Traffico, but the driver of a high powered motorcycle ( 500cc and above ) must also have a Manufacturers Certificate, An Industry Certificate, an Appraisers Certificate and Town Hall registration.
As with Mopeds, Motorcycles are required to have a minimum of third party only insurance, however, unlike mopeds they require their first ITV Inspection when 5 years old - to be renewed yearly beyond that.
Please Note : The above article describes the law as it currently stands - however, Transport Minister Camiel Eurlings has informed parliament that a driving test for mopeds will be introduced during early 2010, stating "Moped drivers will have to pay at least 390 euros for their licence and four compulsory lessons. Drivers who need extra lessons will have to pay more."