Gov't refuse to disclose expenditure and debts at Castellon Airport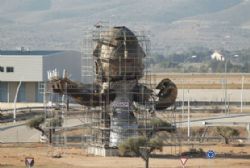 The Compromís coalition party in the region of Valencia have criticized the Generalitat for refusing to provide a full and detailed breakdown for all costs to date associated with the construction and 'operation' Castellon airport.
Councillor Mireia Mollà requested that information relating to staff salaries, security, maintenance, access works, rodent control (by means of contracting a Falconry specialist ), compensation to third parties such as Airport Concessions, financing, technical services, entertainment expenses , inauguration costs, upkeep and maintenance of boundaries, the cost for the design and installation of the controversial sculpture, and the costs of promotion and advertising.
The request for information was put to the Councillor for Tourism, Lola Johnson, just days after Carlos Fabra, the President of Aerocas, announced that Castellon Aiport will be operational by the 1st of January 2013 .
Fabra has repeatedly referred to any politician who have questioned or criticised the airport as being "Idiots".
Here are just a few facts and figures :
Since 'opening' on the 25th of March 2011, just some of the costs and expenditure has included....
* 30 Million Euros On an advertising and promotion campaign to attract foreign visitors, tour operators and airlines (Despite the airport not having the required permits to enable any plane to land...)
* 300'000 Euros On a 25mt high, 20 tonne bronze statue to welcome the non-exiting passengers to the closed airport, commemorating the immortal genius of Carlos Fabra, President of Aerocas, the consortium behind the cock-up.
* 7'700 Euros per month on Electricity ... because the security guards and cleaning ladies working at the airport without passengers need t keep warm.
* 92'000 Euros On providing alternative transport arrangements for 10'000 Austrian tourists after being unable to fulfil a contract to fly them to the airport.
* 5.6 Million Euros on Falconry - apparently an urgent requirement to keep birds away from causing problems with aircraft landing at the airport (not that there actually are any aircraft landing). Don't let anybody tell you that there are not any flights taking place at the airport on a daily basis... just not aircraft.