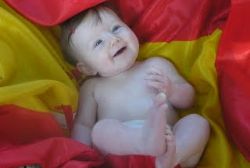 Births must be registered within eight days at the local civil registry office (Registro Civil). It is the parents' responsibility to ensure this is done and it must be carried out in person ( As opposed to On-line or By Post ). In some cases the hospital, clinic or midwife will register the birth.
Any Parent or Family Member may register the birth. The registered name must conform to Spanish regulations (regarding compound names) and also ensure that the name will not prove harmful or confusing for the child ( Like not being named after your Favourite Character from Star Trek ). Whilst this is still an official law, it is only enforced under either extreme or unusual cases.
There are two types of certificate:
short/abridged (un extracto de inscripción de nacimiento or certificado simple): contains the date of birth, the names of the child and parents and the inscription number
full birth certificates (un certificado literal de nacimiento): full certificates may be needed for registration with the Consulate of a baby born to foreign national resident in Spain
The birth registration includes:
name of the new-born
date, time and location of the birth. In the case of multiple births, when the exact time is unknown for each new-born, indication shall be given of the order in which they were born, or that this could not be determined
whether the new-born is male or female and the name given
the parents, when the relationship is legally recognised
the number assigned to the birth or verification file
the time of registration
Birth certificates must state whether a child is legitimate or illegitimate. Children born within 180 days after their parent's marriage, or within 300 days of a divorce, a marriage annulment or the death of the father are considered legitimate.
Registering a child born within a marriage
A close family member can register the birth; the following must be taken to the Civil Registry:
Medical delivery report (this form is provided by the hospital where the delivery took place)
NIE of the parents
Family Book (or marriage certificate duly legalised and translated, as appropriate)
Registering a child born outside marriage
In this case, a declaration is required from both parents, with the father and the mother going to register the birth in person, providing the following documentation:
Medical delivery report (this form is provided by the hospital where the delivery took place)
The parents NIE
Indication of the mother's marital status
If a prior marriage existed, the legal presumption of paternity must be removed by providing: Marriage certificate (with the corresponding note), and the separation or divorce decree (witnessed)
In the case of a "de facto" separation, two witnesses must accompany the interested party to the Register
The Ministerio Justicia English-language pages have a description of registering the birth on their website
Birth certificates for specific regions can be downloaded from this site