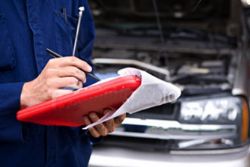 A frequent question asked by motorists of a foreign nationality in Spain is reagrds to the ITV (Inspección Técnica de Vehículos), or the roadworthiness test of a motor vehicle in Spain, which is the equivalent of an MOT in the UK.
ITV tests are compulsory in Spain and as in the UK, can only be done by an authorised Test Centre. The test is basically to check that the vehicle is roadworthy and not a hazard to other road users.
If a vehicle has been involved in a serious road traffic accident, has been subsequently damaged in some way and has undergone any repair work it will need to be retested to ensure that the work has been completed correctly and that your vehicle is still road-worthy.
New Cars are tested for the first time after four years and every two years thereafter up to 10 years Old
A car over 10 years must be tested every year
Motorcycles are first tested after four years, after which the test is due every two years
If a vehicle has been involved in a serious accident, and undergone some repair work it should be retested to ensure that the work has been done correctly and that your vehicle is still road-worthy.
Taking the ITV Test
Find an authorised testing centre on the website of the DGT (Dirección General de Tráfico): There is a Test centre in most Major Towns
The vehicle's registration document (permiso de circulación) needs to be produced when you are taking your car to the testing centre.
The following Features are Tested:
tyre tread depth
lights
Exhaust Emissions
shock absorbers
brakes
wheel alignment
Mirrors & wipers
General Bodywork
If your vehicle Fails the test
If a vehicle fails the test, the owner is issued with an itemised notification of failure for you to present this to your local garage and get the necessary repairs done. Repairs must be done within 1 month of the date of this notification, and then the vehicle should be re-entered for a second examination.
However, Changes to the ITV/MOT legislation comes into effect on May 1 2010, which means that cars that have failed their MOT, or do not hold a valid certificate, will still be able to use the roads for a ten day period of grace. The driver will have to present the car for testing during the ten days, and will have to pay a 150 € fine.
Changes to ITV regulations from November 2017 also state that any vehicle to have failed the test can now take the re-test at a different ITV station.
Passing the Test
An ITV card details the results of each test undertaken, and then where appropriate a certificate is issued as proof of roadworthiness. The certificate (which is basically a sticker) must be displayed in the top right hand corner of the windscreen. It shows the month and year of the next test due.
Not displaying the ITV certificate, or driving without a valid ITV can result in severe fines and the Guardia often perform spot checks for this reason.
Foreign Vehicles
Vehicle roadworthiness is not transferable across the EU countries. A car imported into Spain must pass the Spanish ITV test before it can be registered in Spain; likewise, the ITV of an exported Spanish registered car will not be valid in another country. It is possible to get a Spanish ITV on a "Not Yet Imported "UK vehicle in the same manner, if and when your UK MOT expires.
How does this work in practice ?
So now you are at least aware of the theory behind the ITV and all that it entails, You may wish to click HERE to read a first hand personal account of taking a car for an ITV test.