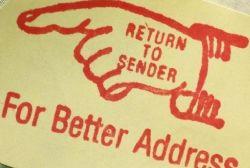 It is by no means unusual for people to move house every once in a while, and while the process is widely acknowledged to be one of the most stressful things to happen in life, it is easy to see how that can escalate when a foreign country is added into the equation.
The good news is that there is a central service operated by the Spanish Central Government that liaises with a number of government agencies to streamline the whole process. Better still this can all be done online !
Note:This service is MUCH simpler if you are already in possession of a digital certificate that you may use for banking and other similar secure online transactions. If you DO need to obtain one, simply follow the steps below, however, we STRONGLY recommend that you familiarise yourself with the website and the process before any investment of time on your part as many computer operating systems are not compatible with the service.
What Agencies take part in this initiative ?
Once your change of address the following bodies will be automatically notified. It is likely that you have no knowledge of them, nor them of you, don't worry - this is just the automated you have registered service :
AEAT (National Tax Office) - For residents tax
DGP (National Police Department) - For passport & NIE.
DGT (National Trafic Office) - For Spanish driving license. & circulation permit
TGSS (Department of Social Security) - For Pension & Social Security.
MUFACE (Civil Servants Collective) - Communication from central government etc...
Who can use the service ?
Anybody already resident in Spain and with a DNI or NIE number.
Do I have to use this service ?
No. Current legislation says that you are obligated to inform the above agencies, but you can choose how this is done. It is simply a resource to make things easier for you.
How do I do this ?
The first thing that you need to do is obtain a digital certificate. This basically authenticates that you are who you claim to be, for purposes of security, and significantly reduces incidences of ID fraud. There are many websites where you can sign in and create such a certificate if you do not have one already.
You can buy one from a number of sources, but a good place to try if you don't have one already is by clicking here (you can change the language to English by clicking on the word 'Welcome' In the top right corner of your screen.
You should then click on 'Citizens' and 'Obtain certificate' in order to complete your application. The instruction are quite clear online.
Please note : Before you can use your digital certificate you will need to have it verified in person by taking the application form and your documents to the nearest registration office to you. There is a full list of offices on the same website and the process only takes a few minutes and your digital signature should be available for use instantly.
Although the process of obtaining this may seem long-winded and unnecessary, it is something that will come in useful for other online activities such as Currency exchange or online banking.
What Next ?
Once you have your digital certificate you should click here and introduce your details where appropriate.
There is even a service whereby you can check the status of your instructions online.
Who or What does the service NOT notify of my change of address ?
Schools and Colleges; Town Halls (You will need to sign another Padron if moving to another muncipality); Doctors and Health Clinics.